Our Ingredients


Our Ingredients Is What We Are Made Of.  
Acai Berry is rich in omega-3, omega-6, and omega-9 fatty acids. These all help skin appear youthful and supple, Fatty acids revive the look of dry, dull skin. If you're getting enough, your skin looks smooth and soft. If you're not, skin dries out, sags, and becomes dull.
Acetyl hexapeptide is designed to lessen the appearance of wrinkles by preventing muscle contractions, similar to Botox. Stimulates collagen production: The ingredient also promotes the production of collagen, which plays a role in keeping our skin firm and smooth.
The benefits of  ACTIVATED CHARCOAL for your skin is one of the best natural pore cleansing ingredients and it's beneficial for your skin in a few other ways too. Activated charcoal effectively cleanses the skin, unclogs pores, removes deeper impurities, and dead skin cells. The result is smooth, supple, and even-toned skin.
Adenosine decreases the appearance of wrinkles by energizing the skin's surface. Studies have shown skincare containing adenosine led to significant improvements in skin smoothness, decreased appearance of crow's feet, and reduce the depth of brow wrinkles. The result is a smoother more youthful complexion.
We use agar-agar to soften and moisturize skin. This gel-like solution made from a species of seaweed known as agarophytes is incredibly nutrient rich, and its jelly-like consistency means it helps to thicken and hold other ingredients in our products.
Algae aka (Seaweed) is used in skincare to help support natural collagen, reduce visible wrinkles, and ensure moisture balance in the skin.  Both in the diet and in skincare products, algae can provide vitamins, minerals, trace elements, amino acids and fatty acids that are important for maintaining healthy and youthful skin. Our proprietary blend stimulates natural hyaluronic acid synthesis and is loaded with phytonutrients and rich fatty acids to plump, firm and smooth.
Alguronic Acid is exclusively found in Algenist skincare products and is produced by microalgae. Its unique properties create visible skincare results. It has been shown to support natural collagen and elastin, and boost skin renewal to even skin tone and texture.
Allantonin medication is used as a moisturizer to treat and prevent dry, rough, scaly, itchy skin and minor skin irritations (such as rash and skin burns from radiation therapy). Emollients are substances that soften and moisturize the skin and decrease itching and flaking.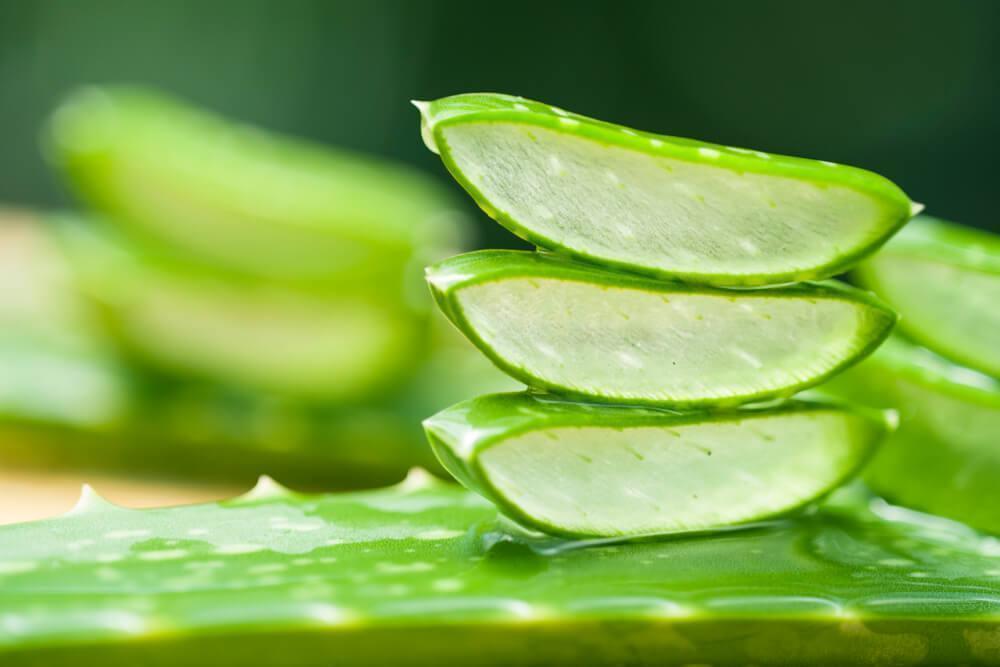 Aloe Vera is a succulent plant that does not have a stem. It helps it your skin moist and protects its structural integrity. Aloe is one of the oldest recognized botanicals with skincare benefits such as soothing and cooling the skin (including for after-sun use) and providing lightweight hydration.
Alpha- Arbutin is a plant-derived antioxidant which can help to promote an even skin tone. Mulberry and Bearberry are natural forms of arbutin used in skincare.
Alpha- Hydroxy Acids aka (AHAs) are a group of natural acids found in foods. Alpha hydroxy acids include citric acid (found in citrus fruits), glycolic acid (found in sugar cane), lactic acid (found in sour milk and tomato juice), malic acid (found in apples), tartaric acid (found in grapes), and others. Alpha hydroxy acids are most commonly used for skin conditions such as dry skin, aging skin, or acne. Alpha Hydroxy Acids (AHAs) also loosen the "glue" that attaches dead skin cells to the surface of the skin; they also support natural hyaluronic acid to boost hydration and can help to reduce the appearance of surface pigmentation and enhance radiance, and to smooth texture. The most commonly used AHAs are Glycolic and Lactic Acid.
Alpha Lipoic Acid (ALA or Thioctic Acid) is used skincare to energize 'tired' skin in the same way it helps the body to make the most of energy sources. It lessens the appearance of redness, enlarged pores, and surface imperfections. It is called the "universal antioxidant" as it is water and fat-soluble, making it easily absorbed and utilized by the body. It also greatly enhances the antioxidant benefits of Vitamins C and E. Dietary sources include dark leafy veggies like kale, collard greens, spinach, as well as broccoli.
Amino Acids are a natural, organic compound and therefore present little to no side effects. They can be used safely by all skin types, even on those with sensitive skin including eczema and psoriasis. Amino acids also act as antioxidants for your skin, protecting it against environmental stressors, such as pollution, and the sun's damaging UV rays. They have also been found to stimulate the production of an antioxidant known as glutathione, therefore supporting your skin's natural defenses. In skincare, amino acids are either used on their own to promote hydration and resilience, or strings of amino acids can be joined to form peptides. Peptide technology has evolved and as a result, there are many different peptides that offer a variety of beauty benefits. One example of a popular amino acid in skincare is Arginine.
Amino Acids
There are various types of amino acids, and each one has a different job to do for your skin. The most common amino acids to look out for in beauty products are:
 Lysine – Firms your skin, providing anti-aging benefit.
Histidine– Provides antioxidant benefits.
Glycine – Improves the skin's elasticity.
Arginine – Helps to repair your skin.
Leucine – Helps to reduce the appearance of fine lines and wrinkles.
Glutamine – Repairs the skin's barrier function and provides moisture.
Glycylglycine – Helps to normalise pore size.
The ANTI-AGING PRIMER is a revolutionary hybrid of skincare. It contains antioxidants and restorative ingredients to keep your skin nourished. Its smooth lustrous texture reduces the appearance of pores, fine lines, wrinkles and provides your skin an intensive moisture by boosting and creating a flawless foundation.
Apricot Kernel Oil helps to improve skin tone, maintain softness and radiance of the skin. It also nourishes the skin and lowers the appearance of face wrinkles, fine lines and blemishes (that's the Vitamin C and E working in partnership).
Arginine is amino acid that interacts with skin like an antioxidant. Arginine is also known for its anti-aging effects and reduces the appearance of fine lines and wrinkles. Arginine keeps your skin firm, plump and smooth. Arginine hydrates dry skin and restores moisture. Arginine is known for its anti-aging effects and reduces the appearance of fine lines and wrinkles
Arnica Montana (Daisy) Extract is a bright yellow, mountain daisy that is grown in Europe and often referred to as wolf's bane. The plant is considered part of the sunflower family and has been traditionally used to treat acne
Avobenzone is often listed by the trade name  (Parsol 1789). This is one of the most utilized sunscreen ingredients in the world, because it absorbs the full spectrum of UVA rays.
Avocado Oil is used in skincare as it has been shown to visibly minimize sun damage, as well as restore suppleness. Adding avocados to your diet is not only a great-tasting way to get Essential Fatty Acids and Vitamins A, D and E, consuming their nutrients can also prove beneficial in maintaining healthy, radiant, soft skin. 
Azelaic Acid is derived from yeast and is used in skincare typically to help promote an even skin tone (especially when used with glycolic acid). Azelaic acid is also a compound found in wheat, rye and barley that can help treat acne and rosacea because it soothes inflammation, it also treats sunspots and melasma because it blocks the production of "abnormal pigmentation.
Babassu Oil is a tropical oil made from the seeds of the babassu palm, a tree native to the rain forests of South America. Packed with antioxidants and healthy fats, it can boost the health of your skin and hair, moisturizing them without causing you to feel greasy or develop acne.
Bakuchiol for Sensitive Skin is a vegan skincare ingredient found in the leaves and seeds of the Psoralea corylifolia plant. It is a potent antioxidant, visibly reduces skin discolourations from environmental exposure, and has a pronounced soothing effect on skin. Bakuchiol can also reduce the appearance of fine lines and wrinkles, which is why you're seeing it in more skincare products. Bakuchiol is a natural plant extract that has proven to have the same powerful effects as retinol, but it is better for sensitive skin and safe for pregnancy and breastfeeding. This retinol alternative is derived from the babchi plant, and like retinol, it helps to stimulate cell turnover and collagen production to prevent signs of aging and fight acne.
Bamboo Extract is said to be rich in silica content, which gives your skin a radiant glow.  It is also said to have hydration benefits, besides silica also produces collagen that results in firmer skin and a youthful bounce.
Barley Extract is a plant-derived antioxidant that has an abundance of phenols and flavonoids. It helps to soothe, soften, and condition skin and can also fight signs of aging by inhibiting free radicals.
Benzoyl Peroxide (BPO) is a very effective acne treatment, fighting acne-specific bacteria. Most retinoids negate the effect of BPO, so use BPO and retinoids in rotation for best results. A best practice with this ingredient is to incorporate it slowly (every other night) into your skincare routine, as skin can adjust to tolerate BPO gradually. This may minimize the potential for redness and dryness when using BPO. Benzoyl peroxide attacks the bacteria on your skin. It also helps to unclog pores by removing dead skin to prevent blockages. This treats existing acne and may help prevent new spots. It works best when you use it regularly.

Beta-carotene is a precursor to vitamin A, a powerful antioxidant that helps ward off damaging free radicals.
Beta- Glucan is used in skincare to help bind moisture to the skin, and provide antioxidant protection. It can promote natural collagen as well as skin turnover to help minimize visible wrinkles.
Black Currant Extract is rich in fatty acids, which keep the skin hydrated, firm, and younger-looking. It also contains antioxidants to nourish dry and damaged skin, leaving it soft and replenished. Black currant extract has anti-inflammatory properties to help with healing and repairing eczema.
Blueberry Extis a source of pro-retinol which helps to reduce the appearance of the tell-tale signs of ageing: fine lines and wrinkles. Combined with the linoleic content which strengthens the skin's natural barrier, blueberry extract hydrates and plumps the skin, making it look youthful and radiant.
Beta-Hydroxy Acid (BHA)
If you've ever dealt with acne or oily skin, you've probably stumbled upon BHAs at some point. BHAs, or beta-hydroxy acids, are a class of mild acids commonly used in skincare products, especially those designed to treat acne. BHAs are effective yet gentle and are often featured in acne treatments, including several of our best-selling  cleansers and moisturizers. But, not everyone knows that BHAs can do a lot more than clear blackheads and banish breakouts. These naturally-derived acids are powerful exfoliants and can help address the appearance of noticeable signs of aging, including dullness.
Biomed Retinol 500 contains Retinol and Ficuscarica (Fig) Extract derived from fig, a secondary natural source of Vitamin A. Reduces fine lines and wrinkles, accelerates skin renewal process, smoothes skin and reduces pigmentation and dark spots. It gives you a smooth, healthy skin with even tone and less prominent wrinkles.
Biotin is present in all living cells, and it plays a significant role in maintaining skin health. As we age and our hormone levels fluctuate, the sebaceous glands in our skin and scalp start producing less sebum oil. This results in our skin, follicles and hair drying out and becoming flakey and brittle. Biotin can improve your skin and help offset these issues, among other benefits—by functioning as a growth factor and catalyst in carboxylation reactions.
Birch Tree Water is the sap directly harvested from birch trees. The sap is a rich source of trace of vitamins and amino acids, and skin-loving nutrients that deeply hydrate the skin and refine the texture. In certain parts of the world, such as Korea, the sap is even sold for consumption due to its sweet taste and ample stores of nutrients.
Black Cumin Seed Oil is derived from the seeds of a small flowering plant native to Southwest Asia. Rumored to have been part of Cleopatra's beauty routine, this oil offers antibacterial and anti-inflammatory benefits and is ideal for skin struggling with acne, clogged pores, redness, and even eczema. A true multi-tasker, the oil also contains over 100 vitamins and minerals to hydrate the skin and protect it against signs of aging.
Black Tea Ferment
The product of fermenting black tea with Saccharomyces yeast and Xylinum bacteria, black tea ferment provides a "lipofilling" effect. The cocktail of vitamins in ferment smoothes the skin and increases its radiance and improves its texture. 
Zinc Oxide is an important nutrient for the skin. Its anti-inflammatory properties that help people with conditions such as acne, rosacea, eczema, and ulcers. Zinc is an element that some believe might have properties to fight acne and its lingering effects on skin.
Witch Hazel is reported to have soothing and anti-redness benefits and is often used in after shave lotions for this reason. It is also used in toners, particularly for oily and combination skin types. It is said to tighten the skin and minimize visible pores, while reducing excess oil on the skin's surface.
Willow Bark Extract is a natural beta-hydroxy acid, and this ingredient can help to promote clear pores, soothe visible redness, and minimize excess oil and shine. Salicylic is a potent acne ingredient that can be derived by willow bark or synthetically created. Derived from the bark of the willow tree, Willow Bark Extract has been used for centuries to soothe irritated skin. Containing salicin—from which salicylic acid is derived—this versatile ingredient is both anti-inflammatory and antibacterial, clearing pores and alleviating acne and irritation.
Willow Bark Extract is a natural and more gentle alternative to salicylic acid. This multi-active ingredient purifies and exfoliates the skin, reduces the appearance of pores, and balances oil production. Also rich in polyphenols (antioxidants), Willow Bark helps help and soothe the skin. It uniquely tackles breakouts, without further disrupting hormones and is safe for pregnancy and breastfeeding.
Watermelon Extract is loaded with nutrients that are all great for your skin. It holds vitamins such as A, B, and C, that work together to nourish and protect your skin. These vitamins also help boost collagen production, leaving skin brighter, fade spots, and basically refresh and revitalise your skin. 
White Lily Bulb Extract is the extract from the bulb of the white lily flower is essentially "sleep for the skin." The extract enhances the skin's natural defenses and protects the barrier from oxidative damage while also smoothing the skin, reducing wrinkles, and relaxing muscle cells. It has been called the natural alternative to Botox.
Walnut prevents premature ageing. Brimming with antioxidants and vitamin B, walnuts help protect your skin against environmental aggressors such as sun exposure, dirt, pollution and other impurities.
Vitamin K is used in skincare to reduce visible redness, and in eye treatments to address the appearance of dark circles. Vitamin K is needed in the body for blood clotting; consequently some skincare incorporates it for post-procedural bruising.
Vitamin F can help with some inflammatory skin conditions such as dermatitis and psoriasis as it helps to reduce inflammation as well as regulate healthy cell function, and excessive water loss. 
Let's start with the basics of what exactly vitamin E is. "Vitamin E aka (Tocopherol) is a group of oil-soluble antioxidants commonly found in skincare products to protect the skin from oxidative stress. A powerful antioxidant that's essential for the body to protect it from free radicals. Tocopherol, or Vitamin E, is an antioxidant that is naturally produced by the skin. It both protects against and is depleted by environmental factors, which is why it's a powerful ingredient in many skincare products. Vitamin E's efficacy protecting, brightening, and evening out skin tone is even greater when it is paired with vitamin C.
Vitamin D's potent antioxidant effects help to neutralize free radicals that are present in the environment, especially those caused by UV radiation on the skin.
Vitamin C is used in skincare to help protect collagen from UV damage, and can also support natural collagen production. It promotes firmness, boosts luminosity and helps with uneven texture. In skincare, Vitamin C is a well-regarded ingredient for anti-aging concerns and anti-oxidant protection, making it especially relevant for daytime use.
Vitamin B3/Niacinamide supports the barrier function of the skin and natural ceramides, to minimize visible redness and prevent dehydration. It can increase skin energy and promote a youthful glow, improving the look of dark spots and large pores.
Vitamin A helps to speed up healing, prevent breakouts and support the skin's immune system and it promotes natural moisturizing - which means it helps to hydrate the skin effectively, giving it a radiant glow. It assists in promoting and maintaining a healthy dermis and epidermis; the top two layers of your skin.
Turmeric Oil is one of the most versatile spices. Not only does it contribute a delicious flavor and golden yellow color to food, but it is also renowned for its ability to decrease inflammation. As a skincare ingredient, it is a known antioxidant that can be used to soothe skin, decrease redness, and boost hydration.
Tucuma Butter
Supremely moisturizing, tucuma butter for skin is often used to tackle dry skin and to retain skin's natural moisture levels. Tucuma butter skin benefits range from nourishing and softening skin to helping to keep skin tissues protected.
Tripeptide-3 is a biometric tripeptide which stimulates fibronectin, collagen and elastin increasing skin firmness and reducing the appearance of fine lines and wrinkles.
Triclosan is an antibacterial and antifungal agent. It is used in cleansers for breakout-prone skin. It can help helpful in preventing and treating blemishes, especially when combined with skincare products that contain Benzoyl Peroxide or Salicylic Acid, as it can enhance the effectiveness of other acne treatments.
Tomato Extract aka (Lycopene) shields the skin against UV-induced erythema. Also, high levels of Lycopene neutralize free radicals that damage the skin and lead to photoaging. Tomato Extract also comes with anti-inflammatory properties that make it a wonderful remedy for treating loose pores and acne breakouts.
Thyme Extract it's amazing anti-bacterial properties are effective in fighting the bacteria that causes skin acne. Thyme is often incorporated as an ingredient in acne creams and face washes. Thyme essential oil can be diluted with water and used as a toner to tighten mature skin. Rejuvenate. By boosting circulation, Thyme Essential Oil helps to stimulate blood flow to leave your skin glowing and youthful. It will also help to flush out toxins and to heal blemishes and scars to leave skin radiant and even.
Many people are familiar with titanium dioxide as an active ingredient in sunscreen. Which is used as a physical sunscreen for both UVA and UVB (broad spectrum). It remains on the skin's surface, scattering UV like light.  Titanium dioxide works as a UV filtering ingredient in sunscreen – it helps protect a person's skin by blocking absorption of the sun's ultraviolet light that can cause sunburn.
 It is a multi-tasking ingredient widely used in cosmetics both to provide coverage as well as a base for pigments, particularly in foundation, and can be used as a thickener. 
Tiger Grass Extract aka ("cica" or "gotu kola") is a leafy medicinal plant found in parts of China, Japan, India, Australia, and the U.S. that has recently gained popularity thanks to Korean beauty trends. The vibrantly green plant is rich in amino acids, fatty acids, and antioxidants, which have been found to soothe inflammation, enhance cell repair, and boost collagen production.
Tea Tree Oil contains key compounds that reduce the bacteria on skin's surface that contribute to acne production and, "it helps calm the skin and reduces redness caused by acne pustules." Its main benefit when it comes to skin is as a powerful antimicrobial agent — it kills the bacterial invaders that cause acne and inflammation. This function is effective against all types of acne, from smaller blemishes and whiteheads to blackheads and larger cystic acne, and it is safe for use during pregnancy.
Tartaric Acid has antioxidant properties and is an alpha hydroxy acid (AHA). AHAs are popular acids in skin care products like serums and masks. Due to its antioxidant and exfoliation properties, most often it's used for reducing fine lines and wrinkles, hyperpigmentation, acne, large pores, and dull/uneven skin tone. 
Tamanu Seed Oil is extracted from the seeds of the tamanu nut tree, a tropical plant native to Southeast Asia and Polynesia. Tamanu oil has a dark green color, is thick in consistency, and has a high content of fatty acids like linoleic acid, which helps to moisturize the skin. Used medicinally by many Asian and Pacific Island cultures, the oil also contains anti-inflammatory properties and helps promote wound healing. When combined with other active skincare ingredients, the oil helps reduce the likelihood of a sensitive reaction to the product.
Sumac Extract contains tannins and essential oils which give the soap astringent andante-inflammatory effects. Soothes skin irritations, protects the skin from excessive formation of fatty substance, thus helping tore duce pimples and spots.
SUGAR MAPLE  EXTRACT from the sugar maple tree contains natural AHAs (alpha hydroxy acids). These acids help exfoliate dead skin cells to make way for new ones while also slowing down signs of aging, including wrinkles and blemishes.
Sugarcane Extract is a major powerhouse of lactic acids as well as glycolic acids: Lactic acids help the skin remain silky smooth, owing to its moisturizing and exfoliation capacities. Lactic acids help in eliminating the dry and dead skin cells and enhancing the growth of new cells.
Although sugar cane is more commonly consumed as a drink or used in cuisines in Southeast Asia, it also has beneficial applications in skincare. The extract of the sugar cane plant functions as a humectant, which helps skin attract and hold onto moisture. It has a secondary usage as a gentle skin exfoliant, as the extract contains glycolic acid.
Stem Cells benefits of Stem Cells helps plump the appearance of skin. Helps skin appear from taut and firm. It reduces  the appearance of wrinkles, dark spots and large pores and helps promote the look of even-toned skin.
Stearyl Alcohol can be a useful addition to help ingredients penetrate the skin, preserve the product, and make it feel lightweight when applied.
Squalene aka (Olive) is a biomimetic moisturizing active that is identical to the squalene naturally occurring in the skin barrier. It is also known as Olive oil and is one of its key elements, squalene, is beneficial for dry skin because of its fatty acid content. It is an excellent carrier oil for essential oils used in skincare, and can increase the skin's ability to retain moisture.
Snow Mushroom Extract is lightweight, and when used regularly, skincare products that contain this ingredient can calm and soothe redness. Just what our inflamed skin is begging for! Snow mushrooms are excellent at hydrating skin. This is due to their moist, gelatinous structure, as well as being high in polysaccharides. Snow mushroom has also been used in skin care as a brightening agent. With over 18 kinds of amino acids, the snow mushroom has also proved to be beneficial in cell turnover and growth, which has made it a prime ingredient in treating blemish prone skin. This mushroom also happens to be high in vitamin D, which when applied topically helps in healing acne. It's a recipe for clear, radiant skin! So let's delve a bit deeper into why it is so hydrating, and what that means for you….first let's look at an ingredient that snow mushroom is giving a run for its money. Snow  Mushroom Extracts is a powerful duo that clarifies and detoxes and reduces the appearance of enlarged pores in skin with high oil production. For more sensitive skin, the extracts also work to strengthen the skin's protective barrier so that it can repair and defend itself.
Snail Extract is an all in all, snail mucin is said to contain proteoglycans, glycosaminoglycans, antimicrobial peptides hyaluronic acid, glycolic acid, glycoprotein enzymes, zinc, iron, and copper peptides.

Skin nutrition complex  a blend of vitamins C, E, and B5; lemon and orange extracts; helps revitalize dull skin for a vibrant, healthy look and soft, smooth texture.
Silk Protein act as an extension of this barrier by creating a shield to defend your skin against aggressors. This helps seal in hydration and stabilize active ingredients so they can work harder. By replenishing your skin's barrier function, silk proteins reduce fine lines, smooth texture and improve skin firmness and elasticity.
Shea Butter helps fade scars both from acne and non-acne-related causes in addition to healing sunburned, cracked, and peeling skin. It soothes skin allergies like poison ivy and insect bites, as well as skin conditions like contact dermatitis and psoriasis.
Seaberry is rich content of Omega 3 fatty acids in seaberry is proven to reduce inflammation and redness. Vitamin E in this formula helps to heal and reduces the appearance of scarring. With their naturally high antioxidant content, seaberries are a potent fortification against the skin aging process.
Salicylic Acid (Beta-Hydroxy Acid or BHA) works to control excess oil production, and reduces the stickiness of oil that clogs pores and contributes to breakouts. A true acne-fighting multi-tasker, salicylic also gently exfoliates the skin's surface.
Sage Oil is used to help control sebum, or the oily substance produced by skin glands. While this may have implications for acne prevention, this essential oil is also known to cause irritation and should be used with caution for anyone with a sensitivity to fragrance.
Rosehips Seed Extract are versatile and are often used as hero ingredients in popular skincare products, especially inside products specially formulated to treat symptoms associated with sensitive skin and oily skin. Rosehip Seed Oil is created by pressing the fruits and seeds of the rose plant to extract the oil. It may feel counterintuitive to use oil on acne-prone skin, but this ingredient contains a high concentration of essential unsaturated fatty acids such as linolenic and linoleic acid, which helps to moisturize and repair skin damaged by acne and sensitivity. Its vitamin C content adds an extra bonus of antioxidant properties.
The concentration of rice extract provides the skin with an abundance of lysine which help builds collagen production in the skin. 
Retinol 2% is a type of retinoid, which is a soluble compound and vitamin A1 derivative. Retinol exfoliates the skin, increases skin cell turnover, and stimulates collagen synthesis. It is considered the gold standard for its anti-aging and skin clearing benefits.
Resveratrol is the same powerful antioxidant that's found in red wine and dark chocolate, resveratrol acts as a protective barrier for the skin and helps to stave off damage caused by pollution, the sun, and other environmental factors. It belongs to a class of antioxidants called polyphenols, which are also thought to help with brain health, boost digestion and prevent diseases like diabetes.
Red Algae Extract is packed with essential minerals that replenish depleted moisture from dry skin due to a compromised skin barrier from hormonal imbalance. This ingredient helps prevent water loss through the skin's surface helping to maintain its water balance for long lasting hydration.
Raspberry is rich in both essential fatty acids, raspberries are an excellent free radical scavenger, helping to protect the skin from daily environmental stress and prevent skin damage. Omega-3 fatty acids help the skin retain moisture, regulate oil production, and maintain elasticity.
 Rambutan Peel Extract (from Malaysia) biomimetically strengthens the skin's protective barrier and re-energizes cellular function to increase hydration, firmness, and resilience. By mimicking your body's natural process of restoration and protection, it helps to stimulate longer-term support against hormonal imbalances.
Purslane Extract is a hidden gem in anti-aging skincare. It is an extract of the purslane plant (a succulent) that is known to have anti-inflammatory, antioxidant, anti-aging, and hydrating benefits. It is packed with vitamins and fatty acids including various dietary minerals, omega-3, omega-6 fatty acids, and ascorbic acid, which is important to keep your collagen and blood vessels in good shape.
Pumpkin Extract contains both Vitamin C and beta-carotene, a precursor of Vitamin A. Vitamin A helps to reduce the appearance of fine lines, wrinkles, and rough texture. Combined, the skin is smoothed, and collagen is strengthened.
Protein is found in all living cells and is an important element in hair, skin, and nails. Wheat, soy and milk protein are commonly used proteins in skincare. Amino acids combine to form proteins and peptides, and different combinations are formulated to address various concerns. Proteins such as collagen and keratin fortify skin, hair and nails, contributing to the health of skin and hair and promoting strength.
Pomegranate Extract contains antioxidants - If you're even a little familiar with skincare products and how they work, you know that antioxidants are one of the best defenses against aging as they help to protect the skin from environmental stressors that quite literally set out to harm it. Pomegranates are full of them, including vitamin C, a brilliant antioxidant that not only protects the skin, but helps it restore its glow. An extract from the pericarp (outer membrane) section of the pomegranate is known to be beneficial in aiding wound healing in acne-prone skin by protecting the skin's outer layers.
Plum Seed Extract are known to be sweet, fiber-rich fruits that can be eaten fresh or dried, but in skincare, the lightweight oil extracted from their seeds contains a high concentration of potent antioxidants that helps promote healthier, bouncier-looking skin. The oil also contains vitamin C, which can brighten skin and fade dark spots.
Plant Stem Cells have a strong antioxidant and anti-inflammatory effect, helping to protect against sun damage and prevent wrinkles. There is also evidence that stem cells can promote the production of new collagen, which can also make your skin appear more youthful.
Plankton Extract aka (Sea Fennel)
For youthful skin: Sea fennel extract is a rich source of amino acid peptides, which help boost levels of elastin and keratin in the skin, softening the appearance of fine lines and wrinkles and firming the skin.